OMG ! I have been desperately waiting to write a review about this book because this book has officially become my Holy Grail of Sci-fi novels. Man , the amount of imagination and reading lines so many times so i could register the movements of the characters. Damn !
I will be honest when I say , I had no clue about the book until I came across a page stating 18 best book to movie adaptations coming this year and i saw Ready Player One by Steven Spielberg and i was like " It has to have something amazing for such a great director of our time to make this movie " and so i researched more about the book and the author Ernest Cline and this is only his debut novel ! Another reason why I wanted to read the book because it's rare for a debut novel to be adapted into a film by such an accomplished director. And so i placed and order et Voila..
Major reason I chose to read a book heavy on Sci-fi was because I myself am planning to write and i needed inspiration and truth to be told , It's flowing and I may be starting soon on that.
So , Here is the summary of Ready Player One via Goodread: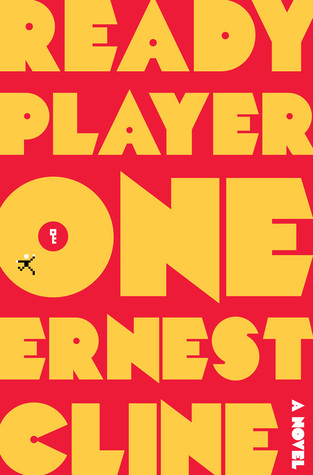 In the year 2044, reality is an ugly place. The only time teenage Wade Watts really feels alive is when he's jacked into the virtual utopia known as the OASIS. Wade's devoted his life to studying the puzzles hidden within this world's digital confines, puzzles that are based on their creator's obsession with the pop culture of decades past and that promise massive power and fortune to whoever can unlock them. When Wade stumbles upon the first clue, he finds himself beset by players willing to kill to take this ultimate prize. The race is on, and if Wade's going to survive, he'll have to win—and confront the real world he's always been so desperate to escape.
My thoughts ? This book is only for those who can really expand their imagination (I myself plan to read it once more as soon as I get some free time). It consists of everything related o the 80s and boy, I had no clue but thanks to the author , it's been described pretty well. There are reference of books,movies and mostly video games. I haven't so far come across any book which can perfectly describe the action of the main character so minutely. I mean, the smallest of the detail is described and nothing is left out.
So Wade Watts is living with his aunt and some other families in a trailer which is on top of a stack of trailers. It's 2044 and things are bad hence, the stacked trailers. Earth has gone through some rough times and in conclusion , the air is horrible and people poor and so on …describing a bad reality where everyone escapes it via the OASIS. Now , OASIS is more than just a game. It's basically everything . Education , entertainment , fun, etc etc..But all this changes when the death of OASIS creator Jim Hallidey and he announces a treasure hunt set in OASIS , with the treasure being millions of dollars and an unlimited access to anywhere to OASIS, basically allowing the winner to take in the role as Halliday's avatar , Anorak .
The book is pretty intense and would be more loved by a video game lover or a more serious nerd than me but what i liked about this book is that even if you are unaware of the 1980s pop culture , Cline doesn't disappoint you , rather he explains then all very well and I bet you would start googling the names of all the games , movies , books.
Plus , this book conveyed a very serious message that i felt everyone should follow or atleast need to know : Never neglect your reality. Don't spend all your time on virtual machines like phones . laptops, games and rather face the harsh reality of life. If you just let it go , it wouldn't affect you in any way and when experience something , you grow out of it, no matter how bad that experience is because nothing lasts forever. This was told by Halliday when he was instructing Wade/Parzival as he said that he shouldn't make OASIS his reality. This line knocked some sense into me actually.
Anyways , on the sidelines , Wade had Aech, Art3mis , Daito and Shoto with him as they all obtained the First Key . But there also exists IOI aka Innovative Online Industries , who wants to make profit out of the OASIS and literally cheats it's way into obtaining all the keys. There is some pretty sweet action in the book to and mark my words , it's described in an amazing way so it's a treat to action/nerd lovers.
This book was beyond average when it comes to designing the whole scenario and it was quite tough to concentrate too. But , I did and hence the review is served to you..
And now the movie is also arriving at a theater near you on March 30 , 2018 . I just hope I have no exams because March is one awesome month with so many amazing movies !!!!
Soooooo, do read. I mean it certainly tests your imagination skills and the book may not be for everyone. I can surely say that. Only those can read who have a strong concentration and a very vivid imagination. But its a fun book to read and today only i got to know that Mr.Cline is planning to release a sequel *Silently crying and dancing in a corner ;)*
Get you hands on this 2011 debut Ernest Cline novel and be sure to hit a like and speak you mind off.
Good Night ❤
Urvashi 😉